Opal Nugget Overview
Opal nugget ice maker is a high speed and affordable ice maker which can fit easily on to cramped kitchen counters. This nugget ice maker is made of high tech sensors that enable automatic operation as well as a colorful LED status light.
If you've had ice making problems in the past, opal just solves your problem in minutes. In our research, we found out that this ice maker was designed by members of the First Build Community and is capable of making chewable ice right from your home.
Design and Features of the Opal Nugget Ice Maker
This portable ice maker looks more of a robotic attendant than an ice maker. At the center of this countertop ice maker is a large and transparent ice bucket which is capable of carrying a significant volume of water. Its design allows you to have faster way to check how much ice you've produced.
In our analysis, we found out that the opal ice maker has a stainless steel cabinet and a clear plastic bin. In addition, and has a glossy black trim interior. In fact, this is one of the best kitchen countertop ice makers.
Unlike traditional ice makers which mostly produced molded shaped ice, this nugget ice machine compresses them into small ice nuggets that are easy to chew. They are also capable of absorbing the flavor of whatever beverage you're drinking.
It measures 17.2 by 10.5 by 15.5 inches (HWD) and weighs 44 pounds. The ice nugget machine is capable of making up to one pound of ice in every one hour. We therefore found out that this makes it much more fast and efficient than a refrigerator ice maker because a normal ice maker makes about 3 to 4 pounds of ice every day.
A removable clear plastic ice bin is held at the front of the nugget ice machine. This plastic ice bin can hold up to three pounds of ice. Under this bin, there is a water reservoir that can hold about 6 to 7 cups of clean water.
In addition, the plastic ice bin serves as great advantage to the nugget ice maker since it has drainage holes that let melted ice drain back into the reservoir so that it can be reused .Again there is a start button with a LED light ring above the bin that tells you what is going on at the glance. For example, the ring is solid white when the ice bin is full, and a cascading white when it is in ice making mode.
In our research, we found out that when you see a slow cascading light, it means that it is in defrosting mode. This also means the ice maker should not be turned off for about half an hour. On the other hand, a pulsing yellow light indicates that the nugget ice machine is in cleaning mode while the rotating yellow indicates that it is in rinse mode. Finally, a blue light means that the reservoir has no water and refilling is required.

Key Features – What Makes the Opal Nugget Different?
In the Nugget ice maker, there are two 14-inch rubber drain tubes that are used to drain excess water. In essence this water is drained after running a cleaning cycle.
In our research, we found out that one end of each tube is connected internally while the other is connected externally to a plug. Therefore, both tubes form a closed loop water circulation system. At the back of the ice maker, there is a switch that toggles between the mode that makes ice and that which cleans the machine.
Another feature of the opal ice maker is that it comes along with a small black plastic scoop. Additionally, it has other features such as a black drip tray. Most importantly, it has a quick start guide and a manual for use and care. The purpose of the quick start guide and the manual is to ensure that you understand how to easily use the ice maker and as well how you can safely care for your countertop ice maker.
This sonic ice maker has a readily available mobile app which can be accessed by all Android and iOS users. It is relatively easy to use and allows you to connect you device via Bluetooth.
Having this application, one is capable of dimming the LED and create ice-making schedules. Again it also tell you the current status of the Nugget ice making machine and with a press of a button, you can stop the ice making process.
However, the catch is you have to be within a Bluetooth range else it will not be able to offer push notifications or even make alerts once the ice is ready made. You will also not get notifications in case an addition of water is required. Finally, it does not tell you when the time to run a cleaning cycle has arrived, but no other icemaker does that, so we are not going to count that as an disadvantage.
Pros
With a broad range of exclusive features, this ice crusher machine is easy to use and also convenient.
Opal ice maker is also smart enough and understand when to start and stop making ice.
It has a sensor that is able to detect the level of water in the bucket and as well turns the ice maker on and off.
Its features also allow ice to slowly melt within the air insulated bucket.
Unlike many coolers, Opal automatically turns on to make sure that the bucket is refilling with ice.
Compared to its great capabilities, its price is comparatively cheap.

Cons
Ice nugget making process might disturb your indoors quite atmosphere by the noise produced by the machine as it louder than other portable ice maker.
Since the app used it advanced, it could use some modification for its efficiency, reliability and convenience.
It is more costly than traditional ice maker.
For better operability, this ice maker needs to be cleaned and maintained at least once every week.
Opal Nugget Customer Reviews
We need to have a talk about your ice chewing habit.
"Look, If you are addicted to chewing ice, the first thing you need to do is get your blood tested to make sure you don't have an iron deficiency. Yes, this is a real thing. The next thing you need to do is figure out whether you can stop. If you can't stop, you have to get this machine. I know it's expensive, but it's not nearly as expensive as cracked fillings and root canals, which is what my dentist has assured me it's in the future for those that chew regular ice.
Is this machine perfect? No, it makes some crazy noises sometimes, but they are not objectionable enough for me to consider returning it for more than five minutes. I need this ice. I can sit and eat three tumblers full of it in a row. The consistency is amazing – at first to comes out a little dense and watery but even those cubes get a nice crunchy shell when they are left to melt for a bit. The stuff is wonderful." Mariah
This is the best ice maker
"So I have spent most of my life buying bag after bag of store bought ice because there is no ice maker on a fridge that can make it fast enough for me. I LOVE ICE. I actually at one time told my husband I wanted a bin ice maker like at hotels because it is that important to me. Enter the OPAL…I saw it when it first came out and wanted it but thought $500 is a bit much for a table top ice maker. Well….was I wrong….my husband bought it for me for Christmas and it was the best gift I have ever received. It makes ice all day every day. She is my new best friend.
We recently left home to travel for several months and I brought her with me. When I went back home for a weekend, my adult son said…Mom we have to discuss joint custody of Opal, we miss her! I said so sad, so sorry, she goes with me! I absolutely love it. The ice is always good and chewy…it is a little noisy but I don't mind it just tells me she's working hard for me! I would definitely recommend it to anyone who is an ice lover. I haven't had it long enough, several months only, to determine if it will have any issues but so far so good." Laura K.
Overall Review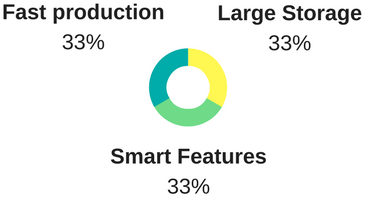 The Opal nugget ice maker is designed for people who go to the restaurant or to sonic to pick up a bag of special nugget ice. It comes at a very cheap price which is affordable to all ice lovers. If you love having friend over for drinks, this is the perfect ice maker for you.Compared to the regular ice, the nugget ice chills faster and it is chewable.
The Opal Nugget Ice Maker is very convenient, with a big ice container that is easily removable, so you can fill the tank with fresh water. It is very efficient, and the production of ice is much faster than your regular refrigerator. This stainless steel appliance will fit perfectly into your kitchen design.The best thing of all, is that the Opal Nugget Icemaker matches convenience and design with affordability.