Igloo ICE 115 Overview
In this article, we are going to outline the various features and characteristics of the Igloo ICE 115 SS-SM Ice maker. This ice maker is all about a high quality built materials that are affordable and available in the market. Igloo ice 115 icemaker is the one of the coolest ice makers available in the market.
In our research, we found out that this ice maker is capable of making 3 different ice cube sizes which takes only 7 minutes. In a day you can produce around 48 pounds of ice. The machine has a window you can see through to check levels of ice.
The selection of large, medium, and small ice cubes all from the same machine makes a perfect party gadget, so when you feel like having a party with great cocktails, or simply you want a cold drink, the Igloo ICE 115 will make it easy on you. Easy to operate, features compressor cooling system and a timer function that makes 48 lbs in one day. The machine has a very attractive appearance, since it is made out of stainless steel, so it will look good anywhere in your kitchen.
Company- Igoo is where you are guaranteed quality ice makers. Where they use quality materials as well as highly trained personnel to make their products.
Pros
The machine is easy to clean. This is made possible by having big stainless steel. This saves time while washing. It also contains ice tray that is removable which makes it easy to maintain.
Produce a lot of ice in a day. This is aided by the ability to make ice in a short while because it takes about 7 minutes. Its large size, which has a capacity of 5 liters reservoir can make 48 pounds of ice in 24 hours.
Easy to use. The machine is easily understood on how to operate it. It has sensors to show full ice and when more water is needed, so it helps to easily work with the machine as you need to eye it.
Warranty. In case of damage, it has a warranty. This warranty team will help you to curb the problems you have as well as showing you how to avoid damages.
Durable. The machine is durable because it is made of high-quality materials.

Cons
The machine needs to be maintained, thus you are advised to take good care of it.
It is slightly noisy.
The ice maker is not a freezer, therefore, the ice made may melt slowly, if not stored in he freezer.
Igloo ICE 115 Features
It is designed in a way that it has indicator lights to show low levels of water and when the ice if full. This eases the work of keeping checking ice and water levels therefore saving time.
It also contains a drain that is external. This drains off excess water.
Have very large stainless steel which is easy to clean. Therefore, you do not need to spend a lot of time cleaning. Also, it gives the ice maker a classier look.
Contains five-liter reservoir and produces 48 pounds of ice every day. Economical because it is capable of producing a lot of ice daily.
The machine capable of making 3 different sizes of ice in 7 minutes enhances the user to produce ice according to the size you prefer.
The machines cord is located at the back and it is 6" long. This improves the performance of the machine.
Prospects
The large size machine is exceptionally excellent for restaurants, hotels and cocktail bars.
The machine is suitable for those who like different sizes if ice cubes because it is capable of producing 3 different sizes.
Good for couples at home who make their ice and stores it for later use or for commercial purposes, making it it perfect home ice maker.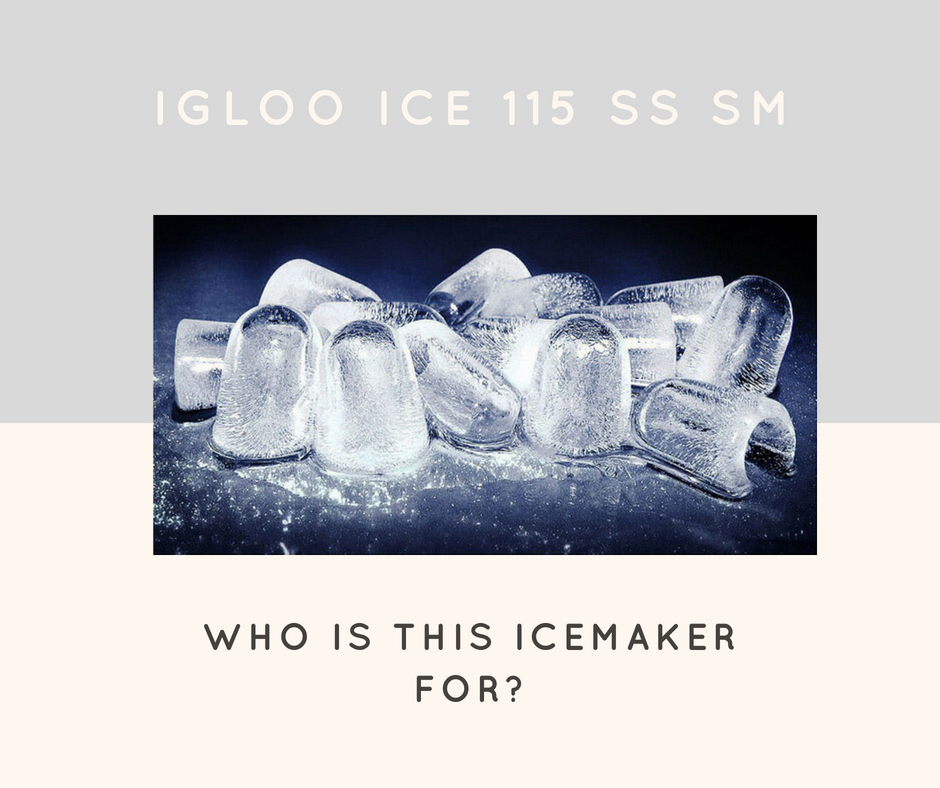 Reviews from Customers
I love the large ice capacity
"I bought this for my in laws. They had another one for years, but it finally bit the dust so we bought this as a replacement. The difference is this one holds a lot more ice at a time which is great! My mother in law is a big fan of the smoothies, so naturally she needs a lot of ice.
The great thing about this ice maker is the option for different sizes of the ice cubes, my favorite are the large ones. The fast production of ice is a big pro, since we always make the after parties at our place, so the ice maker really comes in handy. When buying something on Amazon, I am always reading all the reviews, and the Iglo ICE 115 had the best overall reviews. I hope you will find this one helpful as well." Tina J.

I truly love the machine
"I am really amazed by this icemaker. The first 2 batches produced are transparent ice. The ice is chewable, and also stays loose while in the machine, it does not form a big chunk of ice. However, when you put it in the freezer, the ice cubes start to freeze together. But you can always store the ice in small plastic bags, enough to fill a cocktail cup. If that is too much work for you, you can separate the ice with a knife, it is pretty easy.All in all, I recommend this product, it is a great buy." Amanda Cooper

FAQ and Additional Tips
How to use the machine?
Your big task is only to keep an eye to the LED indicator lights to note when the container of ice is full and when you need to put more water. This machine runs itself with only little of your help.
Can I put the ice bucket in the freezer?
According to the use manual, the ice bucket is freezer safe, but it is recommended by Igloo that you empty the bucket and store the ice in bags. Keep the ice bucket remote, in case you want some more ice for the day.
What does automatic turn off mean?
When the ice bucket is full, the the automatic turn off feature is enabled. The machine goes to sleep, until some of the ice starts to melt after a while. Keep in mind that this is an ice maker, it is not a freezer. Therefore, when the ice in the bucket starts to melt, the water from it will start to drain back into the reservoir, and the ice production process will start automatically. This means that your ice bucket will be full at all times.
What happens with the Icemaker when the summer is over?
Once the ice making season is over, you should drain the remaining water by opening the side valve. When all the water is out, just wipe the interior of the icemaker with paper towel. Make sure it is dry, and then, just store it somewhere in your kitchen until next season.
Final Verdict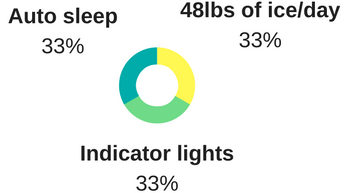 Igloo ICE 115 SSSM ice maker is a machine that you should prioritize when purchasing an ice maker because it is large in size and performs exactly as many users prefer.It is incredibly good for cocktail bars, hotels, restaurant among other places. The Igloo ICE 115 can produce tremendous amounts of ice per day, completely satisfying your ice needs. You are highly recommended to purchase this machine because it is of great benefit to the user which is justifiable in the above discussion. It is easy to clean and maintain, easy in operating as well as its performance.
The most valuable feature is the indicator light, which shows you the water levels in the machine and the amount of ice inside the bin. We highly recommend this machine if you are a big family, ice lover or host to big parties and events. The Igloo ICE 115 SS_SM will fulfill your ice needs and beyond. You will always have ice on hand, and for a very cheap price. If you found this review helpful, you can check out where to buy the Igloo ICE 115 SS-SM ice maker from our homepage.