IGLOO ICE103 Overview
In our research, we found out that the Igloo ICE 103 is one of the most convenient and fast ice making machines. For an average homeowner, this machine stands out from the rest of the park especially due its style and portability. The Igloo ice maker is also made of stainless steel which enables it to make ice just as commercial machines do. Throughout this review, we are going to list out the functionalities of the ice maker that we've researched on.
Design & Structure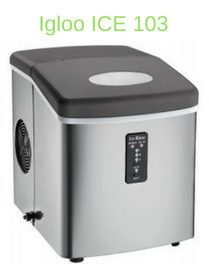 This ice maker has a simple and stylish design which is elevated by its stainless steel completion and its slim edges. Though its design is actually cuboid, it stands out from the rest of the ice makers due to its simple looking fan as well as control panel.
Its weight is about 25-26 pounds and its oversized bucket can carry up to half a gallon of water in it. Specifically, its exact measurements are 14*12*15 inches making it an ideal home ice machine. It can be used both in a small kitchen and also in camping activities.
The Igloo ICE 103 is a portable ice maker which makes it convenient for use. In addition, the stainless steel construction assures the buyer of a long term ice making service. It is also firm and stable and guarantees a safe ice making experience.
If you are just tired of filling up water every now and then, you can plumb the ice maker into a water connection although this method is not recommended by the manufacturer. It definitely works greatly and efficiently by simply adding water from small water gallon cylinders.
The Igloo countertop ice maker is also a low power consumer and uses up to 120 watts of electricity. It has a drain valve which we found unnecessary because the machine rarely loses any ice or water.
Igloo ICE 103 Features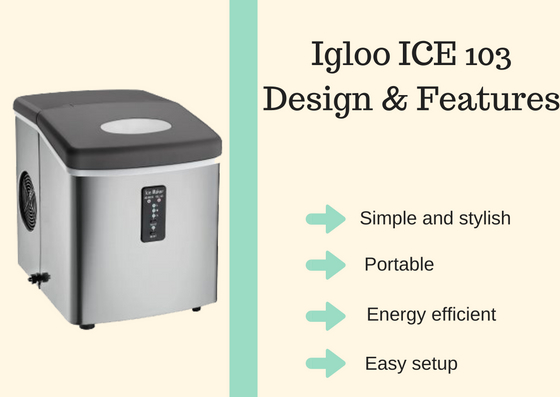 Fast Ice Maker
The igloo countertop ice maker doesn't allow any time wastage during the ice making process. It is easy to set up and enables you to make your ice within 6-8 minutes. However, it is important to note that there is no way you can make this process faster, you just have to wait for a maximum of 8 minutes. This amount of time is among the top fastest ice makers out there according to what we found out.
The process is pretty simple; simply add some amount of water into the reservoir and begin your ice making experience. Though we've stated that this home ice maker is really fast, that does in no way mean that it wears out fast also. In fact, it doesn't malfunction easily even after years of repeated use. This makes it perfect for a person who is looking for a perfect ice making experience with a small ice maker.
Easy to Use and Simple Control Panel
This home ice machine is easy to operate and we did not even require the manufacturer's manual. What is required of you is to check whenever the machine is full, switch it on and off and also adjust the size of the ice cubes.
Produces Huge Amount of Ice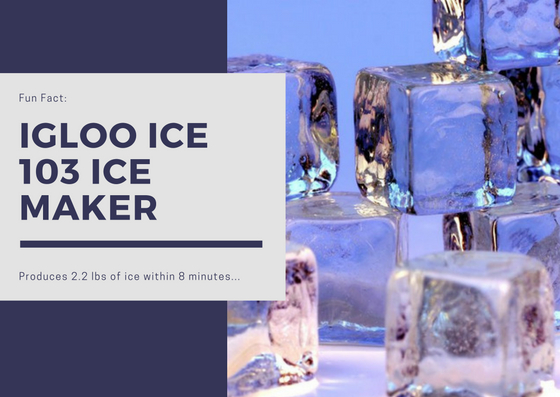 The igloo compact ice maker is an ideal especially when you have a high number of ice consuming visitors in your home or even at your business. We've already seen that it makes about 2.2 lbs. of ice within a maximum of 8 minutes which means that it can make up to 26 pounds at the end of one single day. However, we found out that it does not allow you to make much ice at one single time because of its storage facilities.
The igloo ice maker doesn't have any storage compartments and only comes small ice trays. What you can actually do is adjust the size of ice cubes you will make since it gives you some options from very small, medium sizes and large ice cubes. It as well allows you to make ice cubes of all shapes and sizes to suit your preference.
Pros
Elegant design. It has an elegant design- contrary to many ice makers; the igloo countertop ice maker is unique and appealing due to its stylish design. Its stainless steel nature makes it easy to fit in to other kitchen tools and devices which are of the same design.
Easy to use. It's also very easy to use. As we've discussed above, its control panel is simple and this feature allows you to make big bundles of ice within a short period of time.
Fast. The igloo compact ice maker is fast. With such affordable price, it's incredible to see this home ice machine making up to 2.2 lbs. in a matter of minutes. Your part in the ice making process is setting the type of ice cubes and the amount you need and leave the rest of the job to the machine.
Big storage. It has a big ice bucket that carries up to half a gallon of water. This huge bucket plays a huge part in helping make up to 26 pounds of ice per day. You can as well store your ice in a separate freezer.
Portable. It's a portable ice maker. This small ice maker is portable considering its light weight. It weighs about 25 pounds when empty which makes it easy to carry around.

Cons
Ice cooler. We found out that this home ice machine does not have an ice cooler. This means that you have to transfer ice into a freezer especially when it's in excess.
Power backup. It doesn't have a power backup option and it sometimes becomes frustrating when you have to reset the ice cubes all over again.
Igloo ICE 103 Customer Reviews
I loved the ice machine
"I'll try to be brief in this review. The ice cubes are transparent for the first 2 batches but that doesn't necessarily mean I was looking for clear ice cubes. The ice cubes remain clear while the water is in the basin. The small ice cubes are chewable.
When the machine is on for a long time, you can really make lots of ice. The machine makes ice that's scoop-able as long as it stays inside the machine. However, it does freeze together when transferred to your freezer. What I do is that I fill cups with ice and place them in my freezer and whenever I need ice, I just grab a pre-filled cup.
I am in love with the Igloo ICE 103 ice maker machine. I would have been extra if the water was plumbed to it, but in the end, it is really no big deal." Jessie Willsberg

It's one of the coolest small ice makers
"I want to talk about this little igloo countertop ice maker. I showed up on my doorstep on a Tuesday and it happened to be one of the hottest days of the season in my area. I was super exited since I had sat in the sun for the most part of the day.
Using the device for the first time, it was a little bit tough for me but after a few minutes of interaction, I had a grasp of how to use it well. It arrived at the right moment, it was really hot that day." Tracy G.
Conclusion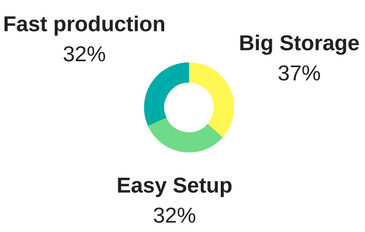 I would really recommend the Igloo Ice 103 Ice maker to anyone in need of a small and portable ice maker. This is because, in many ways, the Igloo ICE 103 has proven to be reliable, efficient, and a really great choice for buyers on a low budget. No manual instructions needed, its easy navigation will simply lead you through its fast ice production of three different ice cube sizes. It has impressive features which make it an ideal tool for the kitchen. Its great design, fast ice production, compactness and the simple control panel, are just some of the features that is going to make the Igloo ICE 103 your favorite kitchen appliance.