HomeLabs Icemaker Overview
Acquiring the HomeLabs portable ice maker should be one of the priorities of an ice making enthusiast. In our research, we found out that this ice maker has one of the best features in the market. It is my hope that you will find each and every detail about the HomeLabs portable ice maker which will help you in making up your mind to buy it.
We will present to you an in-depth review that will mainly concentrate on its features and design, its pros and cons, and its relative price in the market. You will also interact with reviews from customers who have already experienced this particular ice maker.
Design & Uses
The HomeLabs ice maker is a sleek, efficient and very high performing ice making machine. It has a very high capability of making ice due to the fact that it produces ice within 6 to 8 minutes. With this short duration of ice making, the HomeLabs portable ice maker can produce up to 26lbs of ice per day and has a storage capacity of up to 1.5 lbs of ice.
What we found interesting with the HomeLabs portable ice maker is that it gives you an opportunity to effortlessly make beautiful, smooth, bullet-shaped ice at the comfort of your house. This makes each and every drink a pleasure and exceptionally enjoyable!
The design of the HomeLabs ice maker is modern and automatically shuts off when the ice is full. In addition we also found out that it is very easy to fill and drain which means that you'll have no difficulties in the maintenance process.
The HomeLabs is normally ready to use out of the box and no installation process is required. With these descriptions, you might be wondering the best places to use this ice maker. Unlike other ice makers, we found out that the HomeLabs ice maker is perfect for a wide range or places such as the kitchen, recreational vehicles, boats, bars and even backyards to name a few. All this is enabled by its new and easy to use control panel.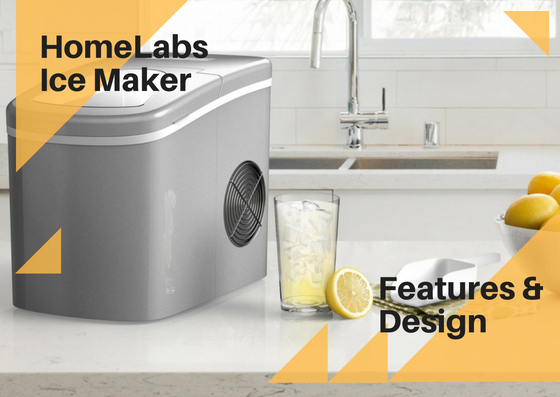 Description of Features
The HomeLabs ice maker has a portable ice power which generally allows it to produce exactly 26 pounds of ice in every 24 hours. It as well has the capability to produce fast ice cubes. Basically it produces in just 8 to 12 minutes; it has the capability of producing 9 elegant batches of bullet shaped ice cubes ready for beverages.
It has a quiet cooling system. This modern ice making machine has features such as refrigeration technology and a quiet compressor cooler. It also shuts off automatically when the ice is full. The HomeLabs portable ice maker comes along with a small BPA free plastic ice scoop and a removable ice basket that automatically shuts off when the ice is full.
Its size and specifications for use are safe and ETL certified. This electric ice maker also measures 9.5 x 12.9 x 14 inches with no installation required. Due to its dimensions and various other features, its overall weight is approximately 19 pounds.
Pros
Its portable ice power is one of the best with a capability of producing 26 pounds of ice.
It produces ice cubes at a very fast rate which are ready for beverages in just 6 minutes.
Its modern refrigeration technology makes it easy for quiet cooling.
The homelabs portable ice maker has a free plastic ice scoop and a removable ice basket.
The basket automatically shuts off when the ice is full.
Its size is ideal for making the perfect ice and is also ready to use with no installation required.
The customer is highly valued when it comes to hOme. It has a money back guarantee and 2 year warranty and an additional 6 months of product registration.
It is also perfect for everyday use and is as well a durable product.

Cons
It's fairly quiet, the loudest sound it makes is when it dumps the ice into the basket.
It also has a limited storage capacity compared to the ice it produces per day.
How it Works?
The first thing you need to do, is fill the reservoir with water, which is located under the ice bucket. Turn it on, and choose from the two different sizes of ice, small and large. Since there is a little window, you can see the process of the ice making. The metal fingers that are located in the back of the ice maker are completely covered in the water that you filled in the reservoir. The metal fingers are starting to cool, so that is how the water starts to freeze. After only six minutes,the ice will be released, so you will have your first batch of 9 pieces of ice, and you can enjoy your drink with freshly made ice.
The ice bucket can hold up to 1.5 lbs of ice, and it takes about an hour or so, to completely fill it, so after that, you need to empty it in bags in your actual freezer. The important thing to note about the HomeLabs Icemaker is that it is not an ice chest. The ice can stay cool about an hour or two in its own bucket, but after that, it will start to melt. So it is up to you, whether you are going to make fresh ice every now and then, or you are going to store the produced ice into your freezer, but one thing is certain – the HomeLabs Icemaker will provide you with 26 lbs of ice every day.
HomeLabs Icemaker Customer Reviews
Perfect for everyday use
"It is just perfect. It does not take much space and it fits perfectly. It made four rounds of ice in less than thirty minutes and I felt like it wanted to make some more ice for us :). I washed it before I went to sleep and filled it with water, just like the user manual said. It is not very noisy and I absolutely adore it."- Malcolm
Ice storage is quite a problem
"I am very happy with the machine…it does exactly what is expected. I am however a little disappointed by the fact that it all clumps together as soon as you try to store ice in the freezer. Has anyone solved that problem? Makes it very difficult to use."- Susan G.
Nice product
"The machine is working very well, it makes medium size cubes.I like it though and tend to start making ice before we know we will need it. It's not very noisy till it dumps the ice but still not bad. I keep it on my bar counter."- Jake

This is a great little ice maker
"Before I by this ice maker, I read a lot of reviews, and after a long research, I decided to go with this one. When we have people over, our refrigerator just cannot handle the demand for ice. Within the first few minutes the machine is dropping its first set of cubes. I always set it to the small ice. I've had it make the larger ice and there isn't a significant size difference to wait the extra time for it to make the larger ice. I have had this machine for a few months and it has helped me through a few parties at the house. I'm very satisfied with this countertop ice maker. It works well enough to save me from having to buying a $1500undercounter ice machine."  Miranda S.

Conclusion
In conclusion, the Homelabs portable ice maker is a pretty good product that is worth investing your money in. Its high performance and sleek design is a great bonus and places it the top of the best seller list of appliances on Amazon. It's specifically perfect for kitchens, recreational vehicles, bars and many other appropriate places.It is perfect for everyday use, for parties or simply, just for chewing it.
You can choose from the two different ice sizes, small and large, whichever is more appropriate for the occasion.
According to the many reviews that we encountered, the customers highly rated this machine. The ice production is fast and fairly quiet, so you will be able to be in the same room with it and mind your own business.
We hope you liked our HomeLabs Ice Maker review and hopefully helped you in making your decision about your ice maker purchase. We highly recommend the Homelabs portable ice maker to anyone who is willing to enjoy its benefits.