Introducing the Della Premium Ice Maker
In our research, we were able to identify that this ice maker works excellently and also proved its ability of producing ice at a very fast rate. It is possible to fit more than half a gallon with water in a reservoir. With this machine you are guaranteed to produce ice in around 6 minutes.
In our research, we found out that the Della Premium Portable Icemaker is easy and fast to operate because you need to fill it with water, plugging it in and choosing either large or small ice. It features atomatic overflow protection and automatically shuts off when the ice bucket is full. Della Premium Icemaker is a high-quality reliable machine and a perfect choice for home ice making.
Overview of the Product
The premium type has a big window for viewing, in a way that you are capable of seeing the inside part of it where the processing takes place and the way the machine produces the ice.
When the ice melts in a cooler you may cycle it again in the machine and produce more ice. You can browse through the pros and cons we are about to present.
Pros
Performance. Performs amazingly fast. It saves a lot of time thus sparing the time to perform another kind of tasks.
Usability. They are extremely easy to use. In this, almost everybody can use it regardless of the level of knowledge they have.
Affordable. The machine is very affordable; it is as well easy to maintain. Thus, the cost of maintaining is minimized.
No risks. There are no risks associated with purchasing the machine. Thus one should buy the machine cater for the upcoming adventure.
Portable. The machine is easy to move with because one can take it to anywhere he or she wishes to take it without problems.
Noise level. The noise level is fairly quiet, regarding the fan and the condenser. The only noise that you can actually hear is the ice cube dropping.
Automatic shut off. Once the ice bucket is full with ice, the machine automatically shuts off, so you do not need to stand around and wait.

Cons
The cubes become wet ones you remove them off the machine, they appear to stick to each other to form a big clump which you need to stab, using a butter knife in order to break them when you intend to put them in the fridge to use them in future.
Ice cubes might be very tiny and at times hollow. This is not really like ice cubes; they look like Small ice cups.
Grow molds inside is you not clean it properly,which applies to all kitchen alliances in general.To avoid that, every two weeks, you should wipe out the interior parts of the ice maker with paper towels.
The machine is slightly bigger than others because it is about twice the height that is expected. Therefore, more space is needed for a travel trailer, bar or kitchen.
Key Features – Who is this Icemaker For?
The features are of excellent built quality. Therefore, they are durable which is advantageous because the cost of replacing is minimized.
The icemaker is said to be beefed up and the machine is large than many of its competitors, However, the machine uses less more energy than that of a light bulb that is (115W).
The machine dimensions are 14-1/2 ''L, 9-3/4''W, AND 12-3/4'' H. It is certified by UL and ETL. Its capacity to make ice is in a cycle is 9 pieces and a capacity of 26 pounds' dairy.
Have easy-push buttons which make the machine to be easy to use where it can be used by anybody.
Contains a water reservoir of about 2.3 quarts and is guaranteed to give you ice in as soon as 6 minutes.
The machine contains features that alert to ensure power voltage of 115v and peace of mind. Thus, easy to use.
Prospects
Della portable icemaker machine is an excellent selection because it is durable and simple to work with.
Convenient to use because it is easy to operate therefore you can purchase it as long as you have work for it. You just need to put in water and press easy-push buttons in with the intuitive pictograms.
Anyone can buy the machine because it is portable and fulfill the requirements needed without challenges.
It is cost effective therefore most can afford the machine because it is the cheapest based on how it performs, very fast in making ice and easy to use.
The machine is automated in a way that it signals you when the water level runs low so that you can add more water.
Della Premium Customers Reviews
This is a great machine and is exactly what I was expecting
"It does everything it says it does. Makes 10 cubes of ice in a matter of minutes. There is just something, and I would not worry too much about it, the ice is not exactly dry. So, when you transport the ice to the freezer, make sure you turn around the ice cubes once or twice, so they do not freeze to each other and form a big ice cube. This is totally acceptable, because it is just an ice maker, not a freezer, so after the ice is made, you should store it in the freezer, not leave it in the ice maker. This is just a friendly tip for those who are interested in this product. Some may complain about this, but c'mon guys, it is a common sense, so please do not trash the ice maker just because it is not a freezer. It does what it is supposed to do and it is great at it.
I am completely in love with the Della Ice Maker, it is everything I expected it would be. It really spared me of transporting big bags of ice from the store and the inconvenience of it melting on the way home." – Icecubes Fanatic
Great Ice Maker, suitable for camping
"I have ordered this portable ice maker on Amazon. It was really well packed, so during the unboxing everything was ok. I tried it while on camping and did a really good job. The ice cubes can fit into a soda plastic bottle and that is pretty amazing. Each subsequent cycle took around 7 minutes, which is pretty cool, every 7 minutes you are going to have a fresh ice.I was really happy that I did not need to setup anything, I just plugged it in, washed the lid first, and started making ice.Another great thing is that you can actually see the process of ice production and know when your ice is ready." – Tiana
FAQ and Additional Remarks – Is it Worth it?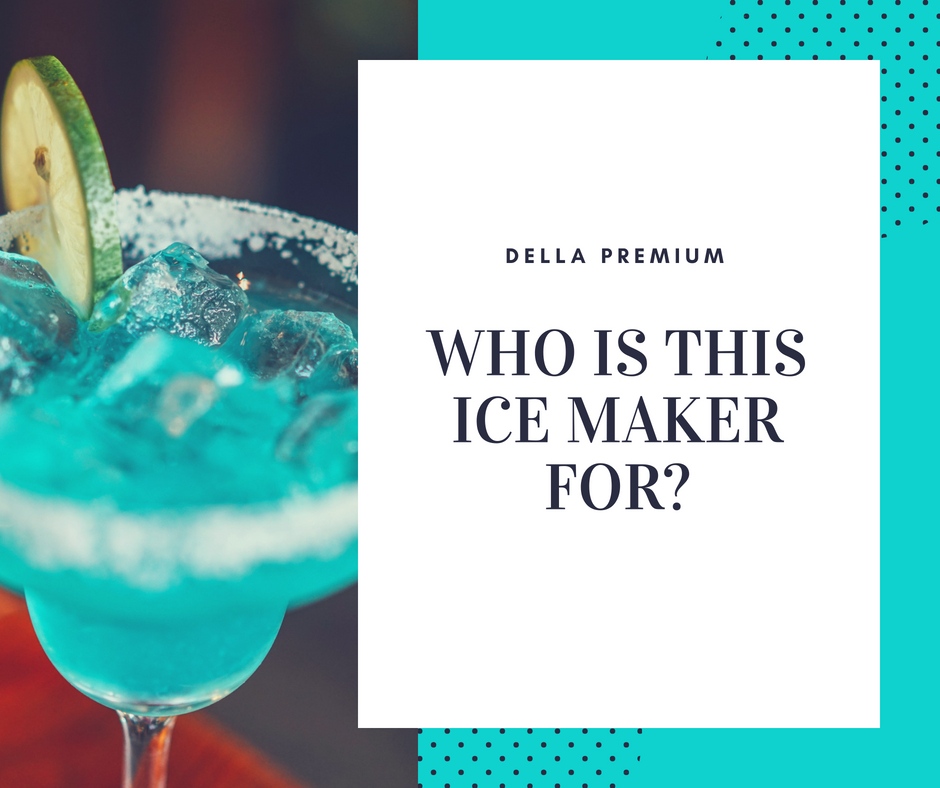 The Della Premium machines are of different colors, you can get either a gray or a silver machine depending on your taste. Easily available because delivery can be done and the machines are available at a reasonable cost and free delivery.
The product is easy to use because you need to add water and press the push buttons and enjoy watching how ice cubes are made because it is fun.
Customers are guaranteed of machines that work smartly which will fulfill their will.Delivery is done as soon as the order has been placed.
The most common concern from customers about the machine is that the model is bigger than other competing icemakers in the market. Thus, customers should be sure that it will fit in their bar or kitchen.
The most often praise about the machine is that it is reliable and efficient in operation, this includes a gas system that drops ice cubes when they are ready.
One of the interviewed customers said that when he purchased the machine ones he opened it and poured water into it and pushed the button it was incredibly awesome and said he instantly fell in love with the Della Premium Icemaker. Additionally, he said that the ice production process is pretty fun to watch.
Conclusion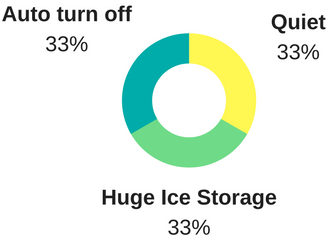 It is justifiable that Della Premium Portable Icemaker is the best choice one should purchase confidently because you are assured that the machine will perform beyond your expectations. It produces ice quickly and quietly, and with its convenient design, it looks great anywhere in the kitchen.
The large storage capacity and the 26lbs of ice per day will help you make your signature cocktails and organize great parties. And the best thing of all, it features an automatic turn off, so, whenever the ice bucket is full, the machine shuts off itself.
Buying of Della Premium Portable Icemaker machine is a direct decision to make that should not be easily taken because it is the best decision ever. These ice makers are appreciated even in the outdoors they are of great benefit because they are portable. The machines can also be used excellently indoors as well and can make great additions in the kitchen. Hopefully, we have helped to guide you on the best ice making machines, therefore do not hesitate to get one.