Whether you need ice to chill your drink on a hot summer day, for a party gathering or just to chew it and have fun, the portable ice maker comes in handy pretty well. You can always make ice at your home refrigerator, but let's face it, the ice production is not really fast and you cannot store endless amount of ice. Another option is to run to the store and buy a bag of ice, but then again, you need to run to the store :). Requiring a minimal effort, the ice maker machine is the best option for fast ice production at any time at any place. You don`t even need to be home. The portable ice maker can come in handy when you are on a vacation, it is very compact and can easily become your new travel buddy in your RV. The benefits of owning an ice maker and numerous, so let us guide you through the features, uses and reviews of the best ice makers currently on the market.
What is an Ice Maker?
An ice making machine is a device that either a consumer uses it for making ice for subsistence purposes at home or else an industrial ice machine for the large-scale production of ice for commercial purposes. An ice generator refers to the part that produces the ice itself. It includes an evaporator and the associated control devices that are involved in the actual activity for making and ejecting ice into the storage bin. The ice maker is fully packaged with a complete machine with controls, refrigeration, and dispenser. It only requires power connection and water supply.
Our Top 6 Picks – Ice Maker Reviews and Ratings
We are going to guide you through our reviews for the best ice makers in 2018, and will provide you with useful information about the product and its features, customer experience and buying guides.
Ice Maker
Home Labs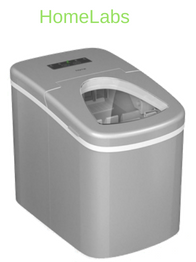 Della Premium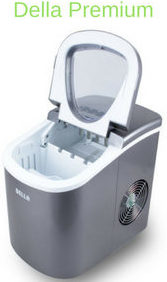 Igloo ICE 115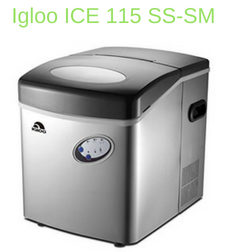 Hamilton Beach PIM 2-3 A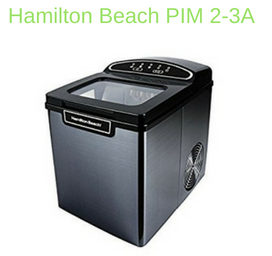 Igloo ICE 103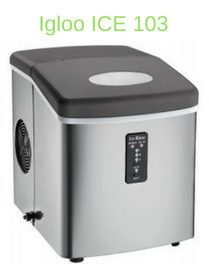 Opal Nugget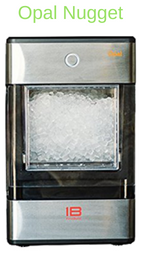 Water Reservoir
2.2 liters / 0.58 gallons
Ice Maker
Home Labs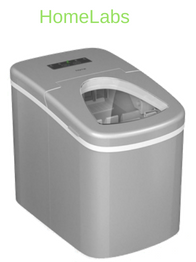 Water Reservoir
2.2 liters / 0.58 gallons
Ice Maker
Della Premium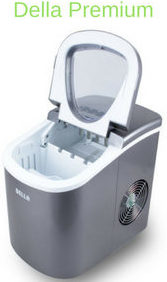 Ice Maker
Igloo ICE 115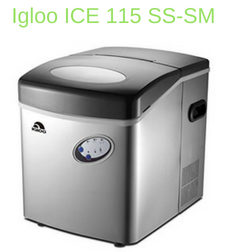 Ice Maker
Hamilton Beach PIM 2-3 A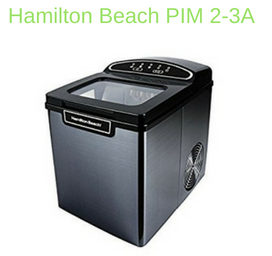 Ice Maker
Igloo ICE 103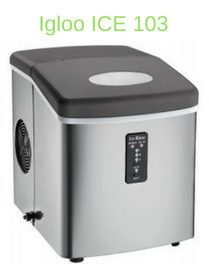 Ice Maker
Opal Nugget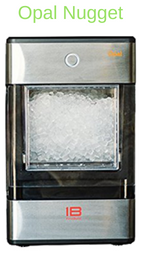 HomeLabs Portable Ice Maker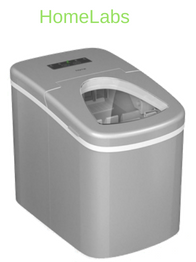 The Homelabs ice maker is a sleek, efficient and very high performing ice making machine. It has a very high capability of making ice due to the fact that it produces ice within 6 to 8 minutes. With this short duration of ice making, the Homelabs portable ice maker can produce up to 26lbs of ice per day and has a storage capacity of up to 1.5 lbs of ice.
What we found interesting with the Homelabs portable ice maker is that it gives you an opportunity to effortlessly make beautiful, smooth, bullet-shaped ice at the comfort of your house. This makes each and every drink a pleasure and exceptionally enjoyable!
The design of the Homelabs ice maker is modern and automatically shuts off when the ice is full. In addition we also found out that it is very easy to fill and drain which means that you'll have no difficulties.
The Homelabs is normally ready to use out of the box and no installation process is required. With these descriptions, you might be wondering the best places to use this ice maker. Unlike other ice makers, we found out that the Homelabs ice maker is perfect for a wide range or places such as the kitchen, recreational vehicles, boats, bars and even backyards to name a few. All this is enabled by its new and easy to use control panel.
Della Premium Portable Ice Maker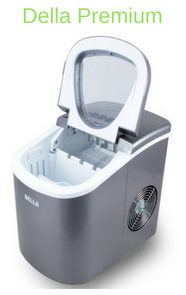 Della Premium Ice Maker is a machine that works amazingly well. It is capable of utilizing the melted ice to make more ice cubes, therefore, curbing the problems that may result from melted ice. The machine have a reservoir of approximately 2.3 quarts and is quick in producing ice because in a day it makes 26 pounds of ice and gives ice in as soon as 6 minutes. The Della premium machine is larger compared to its competitors in the market. But, it uses lesser energy compared to that of the light bulb.
Many customers who have this portable ice maker keep praising it saying that it is very reliable because it never lets them down when it comes to ice production, efficient in terms of operation and also durability because it is built of high-quality raw materials, thus, reducing the cost for replacement and repairs. They also say that they have confidence in the machine due to its performance. Finally, the machine is available in different colors like silver or grey since customers have a different taste because they want their kitchen or workplace to look more attractive. If you are looking great value for money, the Della Premium Portable Ice Maker is the right choice for you.
Igloo ICE 115 SS SM Ice Maker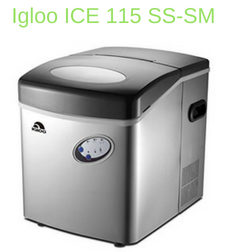 Igloo ice 115 ice maker is a high-quality machine that produces ice of different sizes that is small, medium and large by the same machine. The machine has the capability of producing ice in 7 minutes and has a 5 liters reservoir where in a day it is able to make 48 pounds of ice. It has a window where you can see through and see the ice levels and it also has stainless steel.
The machine is engineered in a way that it gives you signals by the LED light indicators when you need to do an action like the addition of water and emptying the ice bin. This makes the machine to be less demanding in terms of time-consuming because you do not need to be there throughout you only need to check the indicator lights. Many customer reviews witness just positive comments about the Igloo Ice 115 Ice maker. The mass ice production is a big plus for the ice lovers. You can find out more details about this portable ice maker in the our full review.
Hamilton Beach PIM 2-3A Ice Maker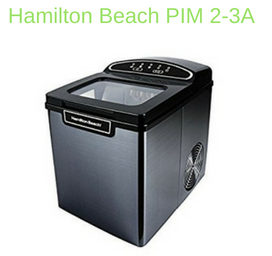 Hamilton Beach PIM 2-3A Ice Maker is a machine that is excellent in ice production and also has a good appliance for cooling your drinks during summer. The machine is very fast in making ice hence you will able to meet the ice demand. This is made possible by having the capacity to produce 9 ice cubes in one minute and also the ability to make 26 pounds of ice in one day. It has an excellent compressor which is engineered in a manner that it will stay for long with quiet operations. The ice machine is able to produce 2 different ice cube sizes. The machine has LED indicator lights which makes work easy for the operator.
The machine is made of stainless steel, thus, it is easy to clean which minimizes time wastage when trying to clean. Customers say that the machine produces clean ice which makes their friends, customers or family to love it and ask for some more. The Hamilton Beach PIM 2-3A Ice Maker is efficient and quiet, thus, the machine can be used anywhere as long as its quiet performance is concerned. The machine has touch buttons which makes it easy to use, it does not require trained personnel and therefore, it is user-friendly.
Igloo ICE103 Ice Maker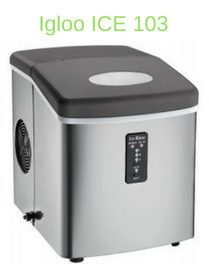 Igloo 103 ice machine is one of the best machines known to be most convenient and quick in making ice. The machine is made of stainless steel which makes cleaning easy hence clean ice production. It weighs around 25 – 26 pounds of ice and its reservoir have a capacity of water is half a gallon. The machine is best for kitchen and outs like camping activities among others. The Igloo 103 ice maker is time efficient in terms of making ice quickly, it is capable of producing ice in 6 to 8 minutes. Thus, helps in meeting ice demand quickly.
This countertop ice maker is very easy to use as it requires you to add water, empty the ice basket and use of press buttons. Therefore, it is user-friendly and anybody can operate the machine without encountering any problems. The Igloo 103 ice maker is durable. This is enhanced by the use of quality materials when manufacturing and also use of trained personnel. Thus, reducing repair cost as well as replacement cost. According to the customer reviews, the Igloo ICE 103 Ice maker works flawless and performs beyond expectations.
Opal Nugget Ice Maker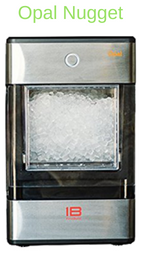 Opal Nugget ice maker is a high speed ice maker which can easily fit on your kitchen counter. This nugget ice maker is made of high tech sensors that enable automatic operation as well as a colorful LED status light.
This sonic ice maker looks more of a robotic attendant than an ice maker. At the center of this countertop ice maker is a large and transparent ice bucket which is capable of carrying a significant volume of water. Its design allows you to have faster way to check how much ice you've produced.
In our analysis, we found out that the opal ice maker has a stainless steel cabinet and a clear plastic bin. In addition, and has a glossy black trim interior. In fact, this is one of the best kitchen countertop ice makers.
Unlike traditional ice makers which mostly produced molded shaped ice, this nugget ice machine compresses them into small ice nuggets that are easy to chew. They are also capable of absorbing the flavor of whatever beverage you're drinking.
The Opal Nugget ice maker is designed for people who go to the restaurant or to sonic to pick up a bag of special nugget ice. It comes at a very cheap price which is affordable to all ice lovers.
What are the Key Features of Ice Makers?
Touchscreen Display. Most ice makers are designed in a way that they signal the operator when an action is needed to be undertaken such as adding water and when ice baskets are full. This is made possible by the presence of LED indicator light. The ice making machines have touch buttons which makes operation easy. Thus, they are user-friendly and anybody has the capability of operating them without encountering any problems.
Portable. Most ice maker machines are portable. This enhances the use of the machine anywhere the user is comfortable with due to easy transportation. Ice makers are built using quality raw materials and are also made by experts who are well trained. Therefore, they tend to be durable which reduces the cost of replacement as well as maintenance cost.
Made of Stainless Steel. Most ice makers have stainless steel. This makes the ice maker be easy to clean, thus, enhancing clean ice cubes production as well as saving time.
Different Types of Ice. Some of the ice maker machines are capable of producing different sizes of ice cubes. This enhances production of ice cubes that satisfy the consumers.
Water filters. The machine has water filters that remove rust, dust and debris which are in the water the contaminants cannot be seen with naked eyes. Removal of the sediments helps to diminish the unwanted odors and taste making the beverages to be more enjoyable. They also reduce wear and tear of the machine, thus, reducing repair and replacement cost.
Production Rate. Ice cubes production rates in a period of 24 hours differ depending on the type of ice maker you have. The manufacturers normally classify production capacity based on machines performance in suitable environments. The optimal temperature of the surrounding air is 500F and 700F. When the conditions of the ice maker environment are warmer, your production of ice cubes will be approximately 20% lesser than stated. Water filter in the ice maker. The filter helps to remove sediments like rust, dust and debris that are present in the water that you are using. Sediments removal diminishes any bad odors or taste from the ice cubes. Additionally, water filters reduce wear and tear of the ice machine, therefore, the cost for repair is reduced.
Common Uses of the Ice Maker

Ice maker machines are used for the production of ice cubes for subsistence use at home or for commercial use. For commercial use, ice cubes are mostly used in restaurants, bars, supermarkets, hospitals and in convenience stores. For the residential ice makers, they are built-in as well as under counter ice machines are good for people who like specific ice types or for those who like entertaining their families and friends. Portable ice makers are good alternatives for not having integrated ice maker in a refrigerator. They are also good for boat riding, dorms and camping.
Different Types of Icemakers
There are different varieties of ice making machines that are available all you need is to choose which best meets your needs. Not all machines are manufactured in the same way. If you need to add an ice maker at home or for commercial purposes you need to know the features of the various types in order to make the best selection, they can either be built-in or portable machines.
Portable and Countertop Ice Makers

Ice makers that are portable have a compact size, does not require water line that is permanent, can be plugged into any 110V outlet that is standard, and they only require water to be poured in in order to operate. Water must be manually be added because it is portable. They are the fastest and the smallest ice machines on the market. The machine is designed in a way it will sit well on your countertop, it is made in a way that it makes ice very fast in as little as 10 minutes. Nevertheless, it is good to know that ice makers are not freezers, therefore, they cannot keep ice cubes frozen for a prolonged time. When the ice melts, the ice maker continuously recycles this water to produce more ice. You are also needed to keep emptying the ice baskets continuously when they get full. Also, the moment the storage basket is full the system will go off automatically. The ice machine begins to make ice in the first few minutes. However, the ice cubes size is determined by the freezing cycle. The longer the cycle the thicker the cubes. The best use of the portable ice maker is to be easily moved to various places. Their small sizes also enable them to be good companions during boating, outdoor application, picnics and camping.
Built-in and Undercounter Ice Maker

Under counter, ice machines are made in a way that the front ventilation allows them to be between cabinetry or built in. The built-in ice makers installation should be done by a plumber who is professional. The machine has a permanent water line and some of the machines require a drain line. The machine is designed in a way that it can store a large ice capacity compared to a portable ice maker model, and also keeping the ice cubes in a frozen form for a long time. It is engineered in a way that it fits under a bar or a kitchen counter but they can also be used on free-standing units. Some of the machines produce ice that is crescent-like, the ice form a freezer ice maker is opaque and cloudy instead of been clear, due to water freezing faster than in other machines that are clear. In the process of ice making the tiny air bubbles are trapped causing a cloudy appearance of your ice. This is contrary to under-counter ice machines which have clear ice maker where the ice does not have air bubbles. The built-in machine tends to be a little bit more expensive because it is a quality machine that provides a steady supply of ice cubes for a couple of years without failing you. Additionally, it increases the overall beauty due to its design, and the value of your home. Therefore, you are required to make a step and purchase one.
Self-contained Ice Maker
This machine is designed in a way that it can produce and store ice cubes within the same unit. They require lesser space compared to the modular units, the ice machine has a low ice production rate as well as storage capacity, unlike the modular machines. The self-contained ice machine is the most appropriate option to have when the determining factor is space. Therefore, when deciding the type of machine to purchase when you have a limited space go for the self-contained ice maker.
Modular Ice Maker

This machine typically produces more ice quantity than the under counter ice maker. For commercial ice production this I the most ideal machine to use in restaurants, hospitals, and bars. The modular machine requires to have a separate ice collection unit. A storage bin aids in collecting and keeping the ice cubes ready for use. The machine is stackable and are placed under a modular unit. When ice demand goes way beyond 300 pounds in a day, the modular ice machine heads are the ideal choice for production of high ice quantity and they are dependable as well. When making the selection of your modular ice maker you should have in mind that their condenser can be either water cooled or air cooled. The air-cooled units need less electricity and water to create ice.
How Does the Ice Maker Work?
The process of making ice is the same despite having different varieties of ice making machines. When water gets into the ice maker machine either through an external water supply line or manually and is directed to a refrigerated ice tray. At this point water is will be frozen in a pattern layer after the other, resulting to the formation of ice cubes. When frozen and ice formed a gentle heating element will then loosen the ice from the ice tray which falls into the collecting bin. The operation of the machine is easy due to the presence of press buttons and LED light indicators which signal you when the collecting basket is full and when you need to add more water. The machine is easy to operate, therefore, user-friendly. The ice making machines have different components:
Compressor. Most of the compressors for ice making machines are either radial compressors or positive displacement compressors. The positive displacement compressors are the most efficient and have a large refrigerating result per a single unit of between 400 – 2500 RT. They have a bigger range of able power supplies. The positive displacement compressor uses a turbine to compress refrigerant into a high-pressure vapor. The positive displacement compressor is of four types rolling piston compressor, screw compressor, rotary compressor and reciprocating compressor.
Condenser Condensers can be of 3 types: • Air cooling condenser – in this air is the heat conducting media where the air is blown through the condenser surface. This carries away heat from the high-temperature refrigerant and high-pressure heat. • Water cooling condenser – in this water acts like the heat conducting media which cools the refrigerant vapour to liquid, thus, causing a cooling effect. • Evaporative condenser – in this there is an exchange of heat between evaporating pipes and evaporated water that is sprinkled on the surface of the pipe. The evaporative condenser is able to work in warm environments and are also reliable and efficient.
Tube ice generator.This is where water is been frozen in tubes which extend vertically around a surrounding casing that is the freezing chamber.

What are the Benefits of Owning an Ice Maker?
No more ice bags. When you have friends at home you do not need to buy bags for ice to meet their ice demand. Purchasing a home ice machine you can make as much as you need.
Easy to use. The ice maker is very easy to use. Ice making is as simple as putting water in a container and switching it on and checking the indicator lights as doing as they command that is adding water and emptying the ice bucket.
Mass ice production. Ice makers produce and store much ice than one may think. They make surprisingly a huge amount of ice every day. Therefore, you will meet the demand of ice easily.
Easy to move. For the portable ice makers, they are easy to move from one point to another. This enhances the user to use it anywhere he or she wants. They are usually fantastic for parties, road trips, camps and boat riding. They have a convenient size that can fit in limited space in campers and RVs.
The portable ice makers do not require a water line or draining line. Instead of the water from melted cubes going in to waste the portable ice machine uses it all. They also, do not need to have permanent water lines, therefore, you do not need a plumber to install it. You just need to plug the water line in.
Durable. The machines are durable. This is made possible by the presence of high-quality raw materials as well as been made by people with trained personnel.
Different types of ice cubes. You make the type of ice that you want. Some like cubes, half cubes and others are fond of chewable ice. Having your own ice maker will enhance you to make your type.
Improves your social skills.What? Believe it or not, you will have more parties. Most people do not talk anything about the type of ice they were offered in a party, but with an ice maker where you make your own people will like to come back to have some more because they are the best.
Versatility. When you have chewable ice the world of the recipe will open up for you. You will join the community of people who endeavor to talk and share the knowledge they have about ice. All the ice that you want can be made. This depends on the capacity of your ice maker, you can produce as much as you need.
Fast ice production. When you need to produce ice in bulk you are needed to purchase the machine with the highest capacity. They make ice faster. A portable ice maker, for example, produces ice in as little as ten minutes. Therefore, you don't need to wait for ice tray to freeze, wash them, store them and figuring out how you will fix them the night before the party. You only need to switch it on, pour water in and let the machine get to work.
Convenience. All the ice will be made on site to provide a consistent supply in one day. You can easily predict the amount of ice the machine will produce within 24 hours. There is no wastage. Ones you use your own ice maker leftovers of ice do not go to waste. The ice can be put in bags and stored for later use or be given to employees for recreation purposes.
It is economical. When ice is needed in your business continuity, it is very economical to purchase an ice making machine than to buy bagged ice. Thus, making savings for other use. An ice maker is a fixed asset. With ownership of the machine, one can say that they have tangible asset used for subsistence purpose or for commercial use. With your own machine, you have a practical solution to fulfill ice demand for your use or for business. Ice machine has great fault protection devices. The ice maker is equipped with many protective devices like low and high pressure, limit, water cut, and overload among others. They enhance machine stability and safety, allowing of the user to stop running when there is no need of making more ice.
Easy to clean. Most of the machine is easy to clean. This is due to the presence of stainless steel. This enhances production of clean ice and also saves time for washing as it makes cleaning faster.
Why you Should Buy an Ice Maker?

Ice makers are easy to use. Anyone including your kids has the capacity to operate an ice maker so you should not worry about who will operate the machine ones you purchase one. Making your own ice cubes is more economical rather than buying bagged ice for your visitors or your use as well. This contributes to you saving some cash that can be used elsewhere. Your own ice maker promotes hygiene. This is made possible due to production of clean ice because you are the one who does this.
Many people who have purchased the ice makers have really benefited from then. Most say that their visitors frequently visit them because of the ice that they had and other says that the ice made their parties fantastic. Ice machine manufacturing companies give warranty. This reduces the risk of losing the machine ones it fails to perform the way you expected. The warranty team replaces or gives remedies and goes to an extent of showing customers how to maintain the machine. Ice machine contribute to the good appearance of your kitchen.
The machine is designed in a way that is looks so attractive to the eyes. They also, have variety of colors therefore, one selects the machine according to their taste. Most people who owns ice makers encourages others to buy. This is a clear evidence that they get benefits from the machines. For the portable ice makers you can cool your drinks while traveling, camping or when you are holding parties. The only way you can produce ice cubes in the fastest way to meet the demand that you have for ice is by use of ice makers. Therefore, you are recommended to purchase them to meet your subsistence as well as your commercial ice demand.